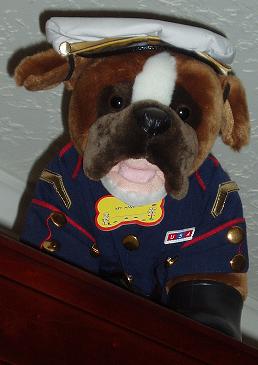 Most of you know from my previous posts that I recently lost my dear father after a 7 month battle with cancer. Dad's illness and death definitely had an impact on my work which you may have noticed from time to time if you have been following this blog for a while, but it has been my great privilege to help support my parents through this difficult time and I wouldn't have had it any other way. However, one thing I learned from my father was his work ethic and lately I have been hearing his voice inside my head telling me to get back on track. I've placed the Marine Bull Dog that my sons gave Daddy on top of my computer armoire to stare down at me and make sure I stay on track just as Daddy did (see picture). Soooo, I'm going to take this opportunity to show you how I've used Outlook to help me jump back in and of course this post is dedicated to my daddy who is likely up there shouting at me "its about time!"
Interestingly enough, the week that we put Daddy in home hospice care I got seven calls from a combination of new prospective clients or established clients wanting to begin new engagements with me – obviously not the best timing. All seven of these companies were incredibly gracious when I explained the situation and told me to take my time and call them back when I was ready. Now as you can imagine, sales activity planning was not at the top of my list at the time so it was very helpful to have a system already established where I could quickly note the opportunities and then find them later.
My established clients were already in my database so all I had to do for them was make sure to update their Call Back Date, Call Back Priority and Next Step Fields so that they would show up in my Today's Call List when I was ready to back to work. If you are not a Huntress user then these fields and the Today's Call List view are not going to sound familiar to you – the thumbnails below show the custom fields in my contact form and the way they look in the Today's Call List View
For brand new clients I noted contact information for the new lead along with where they heard about me in my Day Planner or saved voice mails with the appropriate information. When I went back to work, the first thing I did was create contact forms for the new leads making sure to capture referral information so that not only the new leads could be added to my Call Back List, but "thank you" call backs could be set for referral sources as well.
Working my call list was easy since I had all the necessary information in one place – people are often tempted to put call backs in task or appointment items on their Calendar where they can set reminders, but either of those methodologies can be problematic for several reasons not the least of which is that the reminder window is the last place you want to manage tasks or call backs. For more information on why you should use your Contacts folder to manage follow up activity instead of your Task or Calendar folders see Arrow-tip #2 – Don't use your Calendar to manage your call backs.
One of the biggest benefits of working your call list from your Contacts folder is that you can right click on a contact record and create an email, meeting request, task or journal entry that will automatically be linked to that contact for easy reference later. This little trick will save you a lot of time when working your follow up calls and help keep your contact history well organized.
I was able to re-establish contact with almost everyone and two of these opportunities have already turned into new engagements which helped me accomplish my May Goal #4. I also owe a big thank you to my existing clients who were so gracious during Daddy's illness by allowing me to take the time I needed to help my Mom get Dad's affairs in order as well as grieve and celebrate Daddy's life with my family. The little trick of dragging and dropping emails from clients into the Task Folder (which automatically creates a pre-populated task item) was really helpful for keeping up with the tasks that accumulated for those existing clients.
I want to close out this Arrow-Tip with another big thank you to all of my wonderful friends, family, vendors, and clients who have been so good to me during this difficult period – I can't tell you how much your emails, text messages, voicemails, cards and flowers have helped!