You can create a contacts folder in Outlook that mirrors any contacts folders on SharePoint and then keep the data synchronized between the two.  You will not be able to synchronize with your main Contacts folder, but this feature is nice for company lists that don't all need to be included in your main folder anyway.  For example, as a sales person, you may not need to see the entire client list on a regular basis – especially accounts receivable or operations contacts that perhaps your customer service or credit department interface with on a regular basis.  However, on occasion you may still want access to information some of these folks.  Here's how to create the shared folder in your Outlook profile:
Make sure Outlook is open.  From SharePoint, go to the contact folder that you want to download to Outlook.  On the Actions menu select Connect to Outlook (see screen print below).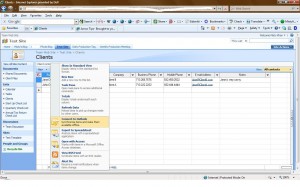 Depending on your security settings an Internet Explorer window could open asking if you want to allow SharePoint to open a program on your computer (see screen print below) – click the Allow button.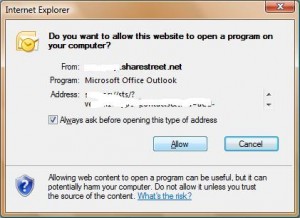 Next a Microsoft Office Outlook window will open asking if you would like to Connect this SharePoint Contacts List to Outlook (see screen print below).  Click the Yes button.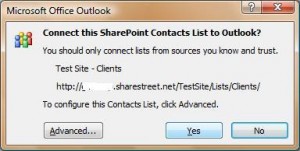 A Connect to [sharepoint site address] window will now open asking for your SharePoint credentials (see screen print below).  Enter your SharePoint username and password and then click the OK button.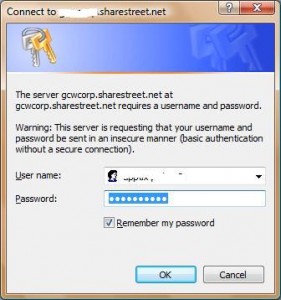 And now your SharePoint Site Contacts Folder should appear in your Folder List or Contacts pane views (see screen print below)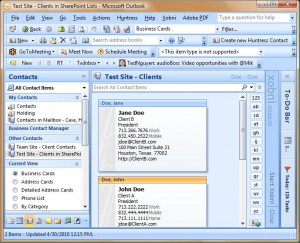 No comments yet.