More and more clients are experiencing issues with the size of their Outlook mailbox which can lead to corrupted data and very slow performance. One of the largest hogs of mailbox storage space is taken up by attachments so that is one of the first places I usually look to get my clients in the optimum mailbox size range of 300 – 500 MB. Of course the biggest challenge I run into is that users are afraid to lose their attachments – but lucky for them because they don't have to. Read on for some ideas on how to shrink your Outlook mailbox through better attachment management.
Using HyperLinks
For internal emails that are being sent between users with common access to a server or intranet, there is really no reason to use email attachments for collaboration. The best way to send attachments internally is to save the document in your shared file system (a shared drive, server or intranet) and then use a hyperlink in the text of your email to direct the recipient to your document. Now instead of receiving a 2 MB email with an attached document, your email partner will receive a 20KB email – down in size by a factor of 100.
This solution gives you the added benefit of better document version control and less documents out in your file system as well since you only need maintain one if change tracking has been enabled.
Removing Attachments
Did you know that you can remove email attachments? In some cases, the content of the email may be more important than attached documents such as graphics. If you want to save the email, but not the space hogging attachment, open your email and right click on the attachment and then select Remove from the pop up menu (See screen print below). The attachment will go away, but your email will remain at a reduced size.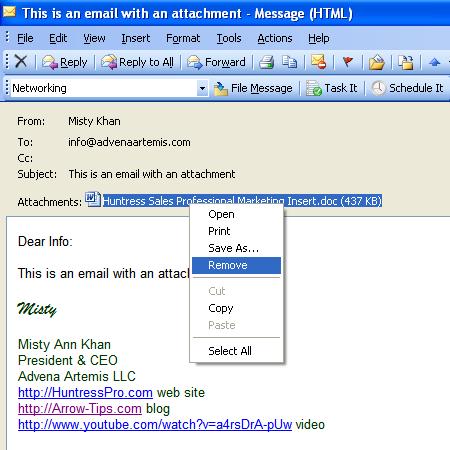 Deleting Items
Of course the most simple answer is often the best – you can delete emails with large attachments. Start with items in your Sent Items folder – if you have sent any pictures or other documents that you have in your file system to an external recipient, these are great candidates for deletion. A great way to quickly scan these items is from your Large Items sub folder in your Search Folders (Search Folders can be found on in the Folder List or Mail views of your Outlook Explorer navigation pane) – simply sort on the In Folder field and you can quickly eliminate some large files.
TechHit is quickly becoming one of my favorite Outlook plug-in software companies. In addition to their SimplyFile (see Arrow-Tip #22) plug-in, I'm recommending their EZDetach plug in to several of my clients as well. EZDetach allows the user to remove an email attachment while filing it out in the user's file system (or on a sever, etc.), and inserts a hyperlink to the file in the original email message. This way, you get the benefit of having a smaller email message while still being able to open the attachment from the email.
Also keep in mind that Outlook was never meant to be a document management system – detaching files and saving them in places that were meant to store documents is a much more secure solution. If you receive a lot of business critical large files via email, this plug-in is a must have!
And as always, I'd love to hear your tips and tricks for handling email attachments in the comment section below.